The Oral Cigarettes (オ オ ー シ ガ レ ッ ツ ツ) will play the main theme of Live action
The official website of Live Action Ajin based on Ajin-Demi-Human manga by Gamon Sakurai began broadcasting the trailer.

The video reveals and anticipates the subject of the film "BLACK MEMORY" of THE ORAL CIGARETTES

Takeru Satoh as Kei Nagai
Gou Ayano as Satō
Tetsuji Tamayama as Yū Tosaki, member of the Ministry of Health, Labor and Welfare
Ajin Control Committee
Rina Kawaei as I ~ umi Shimomura, an ajin who is Tosaki's secretary and bodyguard


Minami Hamabe as Eriko Nagai, Kei's younger sister




Yuu Shirota Kōji Tanaka, member of an Ajin terrorist group




Yudai Chiba as Okuyama, a member of an Ajin terrorist group




Yūki Yamada as Takahashi, a member of an Ajin terrorist group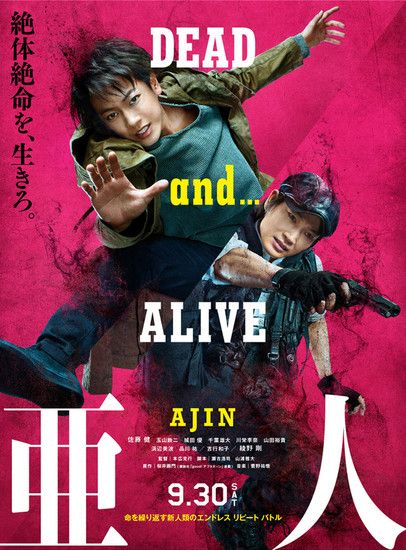 The film's setting will be Tokyo in 2017. In the film, Kei is an internal physician.
Katsuyuki Motohiro (Psycho-Pass, Space Travelers, Bayside Shakedown) is directing the film.
The Live Action project has invited Rurouni Kenshin's Live Action crew to work on the project.
In the original manga story, an immortal first appeared on an African battlefield 17 years ago.
Later strange, unknown things and new immortal life forms began to appear among humans, and became known as "Ajin" (semi-human beings).
Just before the summer break, a high school student named Kei Nagai is killed in a road accident on the way home from school.
However he is revived and puts price on his head.
And this is how his life begins as a fugitive from humanity.
The manga already inspired a trilogy of 3D CG animation, two anime seasons on television and three original anime DVDs by Polygon Pictures.
The film will premiere on September 30th in Japan.